Definition of Evil - What Evil Does and Looks Like
- By Bahram Maskanian
Evil as we know today is produced by the Semite men, whom wrote the evil bible in their own criminal, horrific and savage image, based on their own barbaric and horrible grasp of life, clearly reflected on the pages of Judaism and its two derivatives; Christianity and Islam's religious manuals, fabricated nearly three thousand years ago. Everyone should read the hideous Torah, or the old testament, the new testament and Muslim's Quran, which is a copy of Torah.
Evil is a state of mind, the biological and genetic makeup of some individuals make them evil. Recognizing evil is easy, they are the warmongering, murder for profits, blood thirsty mortals in pursuit of perpetual war, plunder and human culling. Those who harm, rape and sacrifice children, those who make GMO products, and those who deliberately contaminate our foods, air and water, with the goal of dumbing down and reducing population, plus the slave trading and slave holding nation-less corporation's owners and operators, whom have no compassion, and are full of hate, using Judaism's religious manuals as justification for their evil actions.
Evil is a mythical beast, there has never been a gigantic ugly fire breathing varmint, with a tail, holding a pitchfork, ravaging the country side. Evils of today travel on board of their own private jet air plane, wearing expensive outfits, live in mansions, looking like stylish human being.
The oriental history and culture in Asia, also has a mythical monster, looking like a giant reptile, they refer to as Dragon, associated with health, beneficial fertility, water and heavens. The opposite of Dragon, is Godzilla, a frightful, menacing and mythical creature. The difference is that the people of orient never wrote a hideous screenplay, making them into barbaric religion idols, as Semite men did.
Evil shall triumph only, when good people do nothing to stop it.!
In case if you are wondering, Semite people are today's Arabs and Jews. Arabs and Jews are the same ethnic group of people, from the North Africa's Semite tribes. Furthermore, there are no such things as Jewish people, or Christian people, or Muslim people.! Thereby, being a Jew, Christian, or Muslim is people's religion, not their nationality.
Millions of people due to many murderous religious wars in the past three thousand years, at the point of the sword, were forced to become Jewish, or Christian, or Muslim. The point being that if one is born Jewish, or Christian, or Muslim, that does not make one guilty of any crimes committed by the terrorist religious mullahs, based on the evil bible.
I must emphasize that every single one of the following evil actions: "GENOCIDE, MURDER, RAPE, TORTURE, CHILD ABUSE, INCEST, FEMALE SUBJUGATION AND DEGRADATION, CANNIBALISM, PLUNDER, HATE, SLAVERY, WAR OF AGGRESSION, HUMAN SACRIFICE, RACISM, BETRAYAL, THEFT, ANIMAL SACRIFICE, AND LYING" and many other evil behaviors are repeatedly prescribed and encouraged by the Semite male god and bragged about on the pages of the evil bible. 
"FOR SIX DAYS, WORK IS TO BE DONE, BUT THE SEVENTH DAY SHALL BE YOUR HOLY DAY, A SABBATH OF REST TO THE LORD. WHOEVER DOES ANY WORK ON IT MUST BE PUT TO DEATH." - Exodus 35:2
We mustn't forget that ignorance and apathy are two of the most lethal weapons of mass destruction.!  I am going to mention just a few of the many evil verses from the old and new testament below, to simply illustrate what evil does, and looks like.! Here are some of the evil verses, by Semite men, masquerading as god:
"THEN MOSES SAID TO THEM THIS IS WHAT THE LORD, THE GOD OF ISRAEL, SAYS: 'EACH MAN STRAP A SWORD TO HIS SIDE. GO IN AND OUT FROM GATE TO GATE THROUGH THE CAMP FROM ONE END TO THE OTHER, EVERY MAN SLAY YOUR BROTHER, YOUR FRIEND AND YOUR NEIGHBOR. AND THE CHILDREN OF LEVI DID ACCORDING TO THE WORD OF MOSES AND KILLED THREE THOUSAND PEOPLE.' MOSES SAID: 'YOU HAVE PLEASE THE LORD TODAY, FOR EVERY MAN GOING AGAINST YOUR OWN SONS AND BROTHERS LORD BESTOW UPON YOU A BLESSING THIS DAY.'" Exodus 32:27-29
"THEN THE LORD SAID TO JOSHUA, 'HOLD OUT TOWARD CANAANITE THE JAVELIN THAT IS IN YOUR HAND, FOR INTO YOUR HAND I WILL DELIVER THE CITY.' THEY ENTERED THE CITY AND CAPTURED IT AND QUICKLY SET IT ON FIRE. WHEN ISRAEL FINISHED KILLING ALL THE PEOPLE OF CANAANITE TWELVE THOUSAND MEN AND WOMEN FELL THAT DAY. BUT ISRAEL DID CARRY OFF FOR THEMSELVES THE LIVESTOCK AND PLUNDER OF THIS CITY, AS THE LORD HAD INSTRUCTED JOSHUA." Joshua 6:2-27
"YOUR MALE AND FEMALE SLAVES ARE TO COME FROM THE NATIONS AROUND YOU; FROM THEM YOU MAY BUY SLAVES. YOU MAY ALSO BUY SOME OF THEIR CLANS BORN IN YOUR COUNTRY, AND THEY WILL BECOME YOUR PROPERTY. YOU CAN WILL THEM TO YOUR CHILDREN AS INHERITED PROPERTY AND CAN MAKE THEM SLAVES FOR LIFE." Leviticus 25:44-46
"SLAVES, SUBMIT YOURSELVES TO YOUR MASTERS WITH ALL RESPECT, NOT ONLY TO THOSE WHOM ARE GOOD AND CONSIDERATE, BUT ALSO TO THOSE WHOM ARE HARSH."
"IF A MAN BEATS HIS MALE, OR FEMALE SLAVES WITH A ROD AND THE SLAVES DIES AS A DIRECT RESULT, HE MUST BE PUNISHED, BUT HE IS NOT TO BE PUNISHED IF THE SLAVE GETS UP AFTER A DAY, OR TWO, SINCE THE SLAVE IS HIS PROPERTY." Exodus 21:20-21
"IF YOUR BROTHER, THE SON OF YOUR MOTHER, OR YOUR SON, OR YOUR DAUGHTER, OR THE WIFE YOU LOVE, OR YOUR CLOSE FRIEND, ENTICE YOU SECRETLY, SAYING, LET US GO AND SERVE OTHER GODS, YOU SHOULD NOT CONSENT UNTO HIM, DO NOT LISTEN TO HIM, SHOW HIM NO PITY, DO NOT SPARE HIM, OR SHIELD HIM. BUT YOU MUST SURELY KILL HIM, YOUR HAND SHALL BE FIRST UPON HIM TO PUT HIM TO DEATH, AND AFTERWARDS THE HAND OF ALL THE PEOPLE. YOU MUST STONE HIM TO DEATH, BECAUSE HE TRIED TO TURN YOU AWAY FROM THE LORD YOUR GOD. AND ALL ISRAEL SHALL HEAR, AND FEAR, AND SHALL DO NO MORE SUCH WICKEDNESS AGAIN." Deuteronomy 13:6-11
The evil Semite men, set a blaze and burned alive the entire population of Sodom and Gomorrah.! Slaughtered all newborn babies in Egypt soon after, followed by murdering twenty-three thousand Semite people just for complaining about the barbarism, brutality and injustice.! Note, that the entire inhabitants of Sodom and Gomorrah were Semite people as well.! Genesis 19:24.
"MAKE AN ALTAR OF EARTH FOR ME, AND SACRIFICE ON IT YOUR BURNT OFFERINGS, FELLOWSHIP OFFERINGS, OF YOUR SHEEP, AND YOUR GOATS AND YOUR CATTLE, IN PLACES WHERE I RECORD MY NAME, I WILL COME UNTO YOU, AND I WILL BLESS YOU." Exodus 20:24.
"IN FACT THE LAW REQUIRES THAT NEARLY EVERYTHING BE CLEANSED WITH BLOOD AND WITHOUT THE SHEDDING OF BLOOD, THERE IS NO FORGIVENESS." Hebrews 9:22.
"IT IS A BURNT OFFERING, AN OFFERING MADE ON FIRE, A PLEASING AROMA TO THE LORD." Leviticus 1:9.
"AND JEPHTHAH MADE A VOW TO THE LORD: 'IF YOU GIVE THE AMMONITES INTO MY HANDS, WHATEVER COMES OUT OF THE DOOR OF MY HOUSE TO MEET ME WHEN I RETURN IN TRIUMPH FROM THE AMMONITES WILL BE THE LORD'S, AND I WILL SACRIFICE IT AS A BURNT OFFERING.' THEN JEPHTHAH WENT OVER TO FIGHT THE AMMONITES, AND THE LORD GAVE THEM INTO HIS HANDS. WHEN JEPHTHAH RETURNED TO HIS HOME IN MIZPAH, WHO SHOULD COME OUT TO MEET HIM BUT HIS DAUGHTER, AND HE DID TO HER AS HE HAD VOWED." JUDGES 11:30-39.
Jephthah cuts his daughter's throat, dismember her, gut her and throw her body parts on to the barbeque for the blood thirsty, Semite, murderous god to enjoy the aroma of human sacrifice and burnt human flesh.!
Would you do that to your daughter.?
"THIS IS WHAT THE LORD SAYS: 'OUT OF YOUR OWN HOUSEHOLD I AM GOING TO BRING CALAMITY UPON YOU. BEFORE YOUR VERY EYES, I WILL TAKE YOUR WIVES AND GIVE THEM TO MEN WHOM ARE CLOSE TO YOU, AND THEY WILL LIE WITH YOUR WIVES IN BROAD DAYLIGHT.'" 2 Samuel 12:11
"I WILL MAKE THEM EAT THE FLESH OF THEIR SONS AND DAUGHTERS." Jeremiah 19:9.
"BUT IF, DESPITE THIS, YOU DISOBEY ME, I IN TURN WILL PUNISH YOU MYSELF SEVEN FOLD FOR YOUR SINS. YOU SHALL EAT THE FLESH OF YOUR SONS, AND YOU SHALL EAT THE FLESH OF YOUR DAUGHTERS." Leviticus 26:27-29
"BUT IF, DESPITE THIS, YOU DISOBEY ME, I IN TURN WILL PUNISH YOU MYSELF SEVEN FOLD FOR YOUR SINS. YOU SHALL EAT THE FLESH OF YOUR SONS, AND YOU SHALL EAT THE FLESH OF YOUR DAUGHTERS." Leviticus 26:27-29
"BUT IF THE TOKENS OF VIRGINITY BE NOT FOUND FOR THE DAMSEL: THEN BRING OUT THE DAMSEL TO THE DOOR OF HER FATHER'S HOUSE, AND THE MEN OF HER CITY SHALL STONE HER TO DEATH." Deuteronomy 22:20-21
"IF A MAN BE FOUND LYING WITH A WOMAN MARRIED TO AN HUSBAND, THEN THEY SHALL BOTH OF THEM DIE, BOTH THE MAN THAT LAY WITH THE WOMAN, AND THE WOMAN." Deuteronomy 22:22
"IF A DAMSEL THAT IS A VIRGIN BE BETROTHED UNTO AN HUSBAND, AND A MAN FIND HER IN THE CITY, AND LIE WITH HER; THEN YE SHALL BRING THEM BOTH OUT UNTO THE GATE OF THAT CITY, AND YE SHALL STONE THEM TO DEATH." Deuteronomy 22:23-24
Damsel is a young unmarried, virgin and engaged woman happen to meet a man in the city and if they had sex both should be stoned to death.!
The sad truth is that there is no such thing as "VIRGINITY".! Do you have any idea how many millions of young women during the past three thousand years were stoned to death by evil, and or ignorant men because the man didn't think she was virgin.? Even today, no one can tell whether the woman is virgin or not.!
The bleeding event that occurs with some, but not all women is caused by woman's tearing of her hymen for not being properly aroused and lubricated at the time of intercourse. Her hymen, a vaginal membrane with an opening hole that could be of any size, it can be wide, or narrow, if narrow it could tear and cause some bleeding, which has nothing to do with woman being a virgin.!
The hymen is a piece of tissue that lines the vaginal opening. Hymen must have a hole, an opening, otherwise women's menstrual blood could not exit her uterus.! Ask any gynecologist, she, or he will tell you virginity is a myth.!
"NOW THEREFORE KILL EVERY MALE AMONG THE LITTLE ONES, AND KILL EVERY WOMAN WHOM HAD KNOWN MAN BY LYING WITH HIM. BUT ALL OF THE WOMEN AND CHILDREN, WHO HAVE NOT KNOWN A MAN, BY LYING WITH HIM, KEEP ALIVE FOR YOURSELVES." Numbers 31:17-18
Try to imagine for a minute what went on each time the Semite men and their army of black African male slaves, conquered a tribe, and had the chance to carry out one of the evil verses, to undress and examine all women and girls to see who is virgin and who is not.? Slaughter the none virgins and rape the ones were thought to be virgins.? The evil and the horror, the pain these women and children had to endure, is unimaginable.!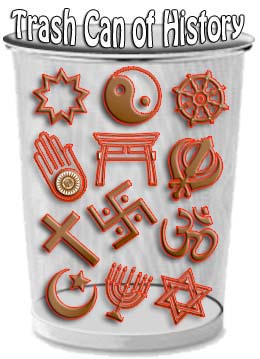 The only way to stop all religious atrocities is to read your religious manuals and never believe any religious mullah. These so-called shepherds will be out of business without sheep.! Mullahs, these child molesting criminals, know all about the evil bible, and have been lying to people for centuries to keep their affluent, luxurious life, easy job, and dominance over ignorant people, their flock of sheep.!
At the conclusion of the United States civil war, when slavery was abolished, and made illegal, Abraham Lincoln should have done the same with preaching the manmade evil bible.! These days racial slurs, or insult land you in jail, but preaching the bible's evil barbarism, make you rich and powerful.! If you were to write a book today, with half as much vicious, murderous and evil verses of the bible in it, people would hang you from the nearest lamppost.!
Think about this for a minute; if you were a Supreme Being with infinite wisdom and knowledge, responsible for producing all there is, from our solar system, our Milky Way Galaxy, and the cosmos, to the self-replicating double-helix DNA molecule, present in all living organisms, carrier of genetic information, automatically building all creatures large and small, from fish to elephant.! Would you demand and behave in such criminal, blood-thirsty, evil and barbaric manner.?
Seeking the truth is not heresy, rather illuminating. Sunshine is the best disinfectant. All so-called believers of all religions, think they are right.! However upon reflection one could simply understand that if you were born in Egypt you would have been Muslim. If born in India, a Hindu. And if born in Italy probably Christian, which means all religions are just societal indoctrination to brainwash the masses for political reasons. We should wise up and stop murdering each other over mythologies and delusions fabricated by primitive barbaric Semite men, thousands of years ago.!
I read and used King James bible, now freely available online for download, as PDF document.
Note:
Since the writing of this article, few years back, many of our visitors had ask about my religion. My religion consists of: Truth and Honesty.! Reason and Common Sense.! Liberty and Justice.! Goodwill and Happiness.! Love and Compassion.!
---
If you lookup "EVIL" in a dictionary, you shall find the following:
Wicked, bad, wrong, immoral, sinful, foul, vile, dishonorable, corrupt, iniquitous, depraved, reprobate, villainous, immoral, nefarious, vicious, malicious, malevolent, sinister, demonic, devilish, diabolical, fiendish, dark, monstrous, shocking, despicable, atrocious, heinous, odious, contemptible, vice, horrible, execrable, informal lowdown, dirty, cruel, mischievous, pernicious, malignant, malign, baleful, vicious; destructive, harmful, hurtful, injurious, detrimental, deleterious, inimical, bad, ruinous, unpleasant, disagreeable, nasty, horrible, foul, disgusting, filthy, vile, noxious.
ANTONYMS: good, virtuous, beneficial, virtue, morality and pleasant