The Venus Project Foundation
Mission Statement:
The Venus Project Foundation is an arts, sciences and educational, non-profit 501(c)(3), public advocacy organization, based in New York City. We are advocates of reason, common sense principles and ethical standards. We are not in the charity business. Rather, we are in the business of changing all that matters for better, through the use of arts, sciences and education.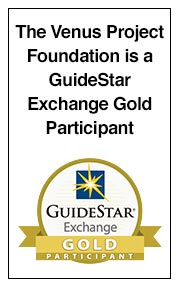 We are dedicated to the establishment of democracy, democratic values and principles, abolition of female and child slavery, female equal rights, gender equality, civil rights and civil society, defense and promotion of human rights, social justice, elimination of poverty, freedom of speech, free and unbiased press, freedom of association, freedom of assembly, freedom of expression, freedom of religion, separation of church and state, and preservation and protection of our one and only home, Planet Earth, by establishing and utilizing New Energy.
We aim to establish the Venus Project Foundation as a global open source of enlightening, entertaining, educational and informative repository of knowledge and wisdom, to encourage and facilitate ground-up, non-violent social, economic and political evolution, leading to the formation of true and long lasting democracies and energy independence for all of humanity.
We are convinced, that the arts, sciences and education are the only effective and long lasting remedies for eradicating poverty, violence, ignorance and apathy.
We are also convinced that arts, sciences and education are three of the most highly liberating, elevating and evolutionary instruments at our reach for helping The Human species / Humankind / Humanity crawl out of the dark and mind numbing caves of violence built and maintained by the tyrannical dictators, and evolve into a fair-minded, responsible, compassionate, loving and caring citizens, capable of realizing, developing and maintaining democratic principles, values and rule of law, thus entering the bright and exciting future of cooperation, reason and common sense.
We are determined to accomplish our goals through the production, promotion and distribution of creative, educational, enlightening, entertaining and artistic works such as, but not limited to: documentary films, feature films, music, dance, radio and television programming.
We shall offer all aspects of New Energy and Civic Education, including democratic principles and values, along with other social justice, environmental and democracy related subjects in form of multi lingual tutorial courses, consisting of 5 minutes e-learning episodes for all of humanity to enjoy, to be made available online free of charge.