"In a time of universal deceit - telling the truth is a revolutionary act." George Orwell
---
Hurricane Sandy - A Fierce and Devastating Wake-up Call
The devastating outcome of the Hurricane Sandy, beginning on October 28, through October 30, 2012 - The 48 hours long, 1,000 miles wide, Hurricane Sandy caused unimaginable death and destruction, leaving 8 million people without heat and electricity.
Hurricane Sandy is just the beginning of more intense and devastating climactic changes to come. - But it doesn't have to be this way. - We, the humanity have many other viable choices of safe, environmentally friendly and sustainable means of generating our own power utilizing New Energy.
Watch Thrive Documentary Film, Dubbed in 29 Languages - 10 overdubbed - 19 subtitled For Free, Right Now!

THRIVE is an unconventional documentary film, in 29 languages, that lifts the veil on what is REALLY going on in our world by following the money upstream. - Uncovering the global consolidation of power by a criminal and greedy few, in nearly every aspect of our lives, including: education, forced vaccination, harmful medicine, toxic air and water, GMOs, and much more. - Weaving together breakthroughs in science for providing sustainable, clean, free energy for all of humanity right now, today! THRIVE offers hope, inspires and provides real life solutions for many of humanities detrimental problems, empowering all of us with unprecedented and bold strategies for reclaiming our lives, our world and our future, right now, today! Watch it and pass it on to all you know.
We are proud to announce a pre-release screening of THRIVE, the highly acclaimed and newly produced enlightening documentary film, revealing the hidden truths on capture and use of free, clean, never-ending and abundant energy, from the fabric of space all around us, available to all of humanity RIGHT NOW!
THRIVE screenings in New York City began on November 11, 2011. If you are among the 99 percent majority and support the cause for green and abundant free energy, which can be implemented right now, you absolutely need to see this truly astonishing film. Your tax-deductible donation of $5, or more could help us spread the word. Show your support by clicking on the Donate button below.
---
The Venus Project Foundation is arts, sciences and educational, non-profit 501(c)(3), national public advocacy organization. We receive no money from any government, or nation-less corporations. We rely entirely on donations from the caring public. Any donations you can make, large or small, will be a valuable contribution to our work. Please note that your tax-deductible contributions to Venus Project Foundation will ensure our independence to speak freely on political, economic, social justice, environmental, and human rights issues, we need you on our side.
---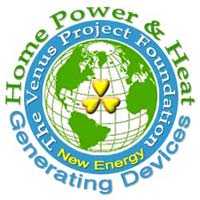 If you wish to become an energy independent household, generating your own power without the use of gas, oil, coal, or nuclear, visit and join the New York Thrive Community, and begin celebrating your energy independence, by never paying a cent for electricity.
We, at the Venus Project Foundation are eager and determined to play an important role in building a unified community of New Yorkers, who wish to THRIVE.
---
"You could never change things by fighting the existing reality. To change something you must build a new model that makes the existing model obsolete." R. Buckminster Fuller
---
Aside from English, Thrive is also available in English with English subtitle for the hearing impaired. Thrive is available in: Arabic, Bosnian, Chinese, Croasian, Dutch, Farsi - Persian, French, German, Greek, Hungarian, Hebrew, Italian, Japanese, Korean, Nederlands, Portuguese, Polish, Russian, Spanish and Swedish languages as well.
THRIVE is truly a magnificent and unique enlightening documentary film..! If you are curious, thrive took twenty years of hard work, research and over fourteen million dollars to produce, enjoy..!
Watch Thrive Documentary Film, Dubbed in 29 Languages - 10 overdubbed - 19 subtitled, For Free, Right Now!
Free Energy: What You Can Do to Help - By Foster Gamble
In order to make THRIVE accessible to a worldwide audience, the movie has been dubbed and subtitled in many additional languages:
Language
Dubbed
Subtitled
Arabic
العربية
✓
 
Armenian
Հայերեն
 
✓
Bosnian
Bosanski
 
✓
Bulgarian
български
 
✓
Chinese
中文
✓
 
Croatian
Hrvatski
 
✓
Danish
Dansk
 
✓
Dutch
Nederlands
✓
✓
English
English
✓
✓
French
Français
✓
 
German
Deutsch
✓
 
Greek
Ελληνικά
 
✓
Hebrew
עברית
 
✓
Hungarian
Magyar
 
✓
Indonesian
Bahasa Indonesia
 
✓
Italian
Italiano
✓
 
Japanese
日本語
✓
 
Korean
한국어
 
✓
Norwegian
Norsk
 
✓
Persian
فارسی
 
✓
Polish
Polski
 
✓
Portuguese
Português
 
✓
Romanian
Română
 
✓
Russian
Русский
✓
 
Spanish
Español
✓
 
Swedish
Svenska
 
✓
Tagalog
Tagalog
 
✓
Total
29
10
19