"In a time of universal deceit - telling the truth is a revolutionary act." George Orwell
---
Bombshell: Syria's "chemical weapons" turn out to be fluoride
September 03, 2013 - By Mike Adams - HealthRanger
Bombshell: Syria's 'chemical weapons' turn out to be sodium fluoride used in the U.S. water supply
- By Mike Adams - September 3, 2013
Natural News can now reveal that the Syria chemical weapons narrative being pushed by the White House is an outlandish hoax.
To understand why, you have to start with the story published in The Independent entitled Revealed: Government let British company export nerve gas chemicals to Syria.
Sounds scary, right? As The Independent reports:
The Government was accused of "breathtaking laxity" in its arms controls last night after it emerged that officials authorised the export to Syria of two chemicals capable of being used to make a nerve agent such as sarin a year ago.
What, exactly, are those two dangerous chemicals that need to be controlled via "arms control" regulations? You won't believe me when I tell you. They are:
• sodium fluoride
• potassium fluoride
You can see this yourself in the screen capture of The Independent breaking news story. Note the headline and the subhead. The headline describes "nerve gas chemicals" and the subhead explains them as "sodium fluoride" and "potassium fluoride."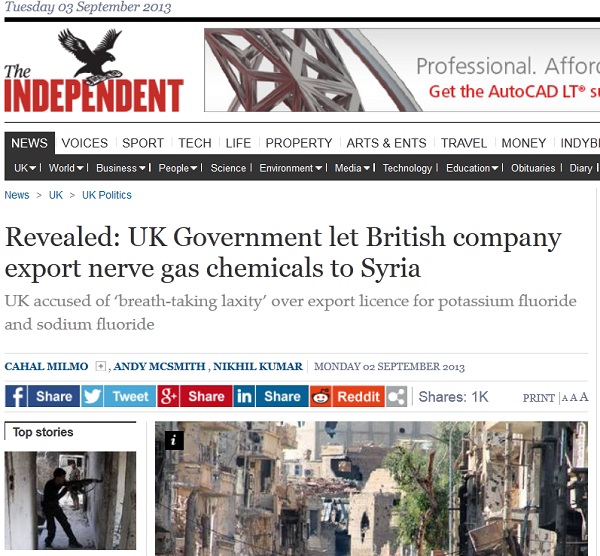 U.S. water fluoridation chemical is Syria's "chemical weapon"
If these chemical names sound familiar, that's because sodium fluoride is the same toxic chemical that's routinely dumped into municipal water supplies all across the USA under the guise of "water fluoridation."
In fact, the forced feeding of sodium fluoride to the U.S. population is called a "public health" victory by the CDC, FDA and dentists everywhere. Yet this same chemical, when sold to Syria, is openly and repeatedly referred to as a "chemical weapon." This is true across the BBC, the Guardian, Daily Record and Sunday Mail, France24.com and literally thousands of other news websites.
According to U.S. Secretary of State John Kerry, any government "regime" that uses chemical weapons against its own people should be bombed / invaded / overthrown by a coalition of other United Nations members. By his own definition, then, the United States of America should now be invaded by the UN because the government uses a deadly chemical weapon - sodium fluoride — on its own people.
By implication, then, John Kerry is now calling for the UN to bomb the USA. As the international media now confirms, sodium fluoride is a chemical weapon, and this chemical weapon is used against the American people every single day in the water supply, a favorite attack vector for terrorists.
"Evidence" of chemical weapons nothing more than hair samples of people who drank sodium fluoride
As you might have guessed, Secretary of State John Kerry is running around "pulling a George Bush" by claiming Syria has used weapons of mass destruction on its own population. Here's a sample of his claims:
"In the last 24 hours, we have learned through samples that were provided to the United States that have now been tested from first responders in east Damascus and hair samples and blood samples have tested positive for signatures of sarin." Kerry said this on NBC's Meet The Press.
But what, exactly, is he saying? That hair samples have tested positive for "signatures" of sarin, not sarin itself. What is a "signature" of sarin? The fluorine element, which is of course the basis for sodium fluoride.
In other words, this "evidence" of chemical weapons in Syria may be nothing more than a collection of hair samples taken from people who drank fluoride. As this study shows on SCIENCE.naturalnews.com, hair analysis is a commonly-used practice for assessing exposure to fluoride. It concludes, "hair may be regarded as biomaterial of high informative potential in evaluating prolonged exposure to fluorides…"
Typically, this analysis is conducted with ICP-MS instrumentation, using a plasma torch that disintegrates all organic molecules, leaving only the resulting elements (fluorine). Tests done on Syrian citizens using ICP-MS would not be able to distinguish between sodium fluoride and sarin exposure in terms of the detection of elemental fluorine.
Read that again, because it's crucial to understanding the hoax being perpetrated by the White House: Tests on hair or other tissues, if done using ICP-MS (the most common elemental analysis technology used today), would not be able to distinguish between sodium fluoride and sarin.
Sarin has the chemical formula:
[(CH3)2CHO]CH3P(O)F
You will notice that the only elements in this formula are:
Fluorine
Carbon
Hydrogen
Oxygen
Phosphorous
Out of those five elements, four of them (carbon, hydrogen, oxygen, phosphorous) occur naturally in the human body in large quantities. Fluorine is the only element that strongly stands out against the rest in terms of elemental analysis. And fluorine is the same element that forms the basis of sodium fluoride. Sarin can, of course, also be detected as a complete molecule using liquid chromatography systems (HPLC), but this is highly unlikely to have taken place given the inherent instability of the molecule, which breaks apart upon exposure to simple moisture in the air or in the body.
Thus, ICP-MS testing could be used to intentionally "blur" the evidence, making sodium fluoride appear to be "signatures" of sarin, precisely as Kerry is now claiming in the media. As the whole point of all this is to fabricate evidence to justify a political war in the first place, there isn't any real scientific scrutiny being applied to all this. Obama, Kerry and others are spouting whatever they think the people will swallow, and since most of the U.S. public is scientifically illiterate, it turns out they will swallow some real whoppers.
Same sodium fluoride chemical added to water for infants
Sodium fluoride, by the way, is also added to drinking water for babies and infants. It's a key ingredient, actually, in a product called Nursery Water that's "enriched" with extra sodium fluoride, the same chemical now being called a "chemical weapon" by the international media. You can see this for yourself at www.NurseryWater.com or just check out the photo below: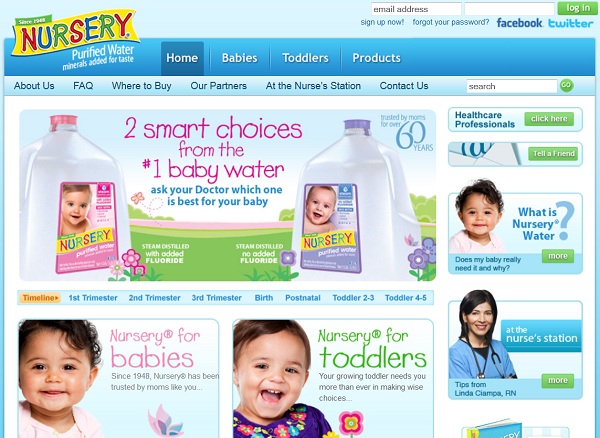 As you can see, this sodium fluoride infant water – which the White House effectively calls a "chemical weapon" — is sold at Wal-Mart, Walgreens, Albertson's, Safeway, K-Mart, Rite Aid and even Toys "R" Us. Bet you never knew you could buy chemical weapons at Toys "R" Us, did ya?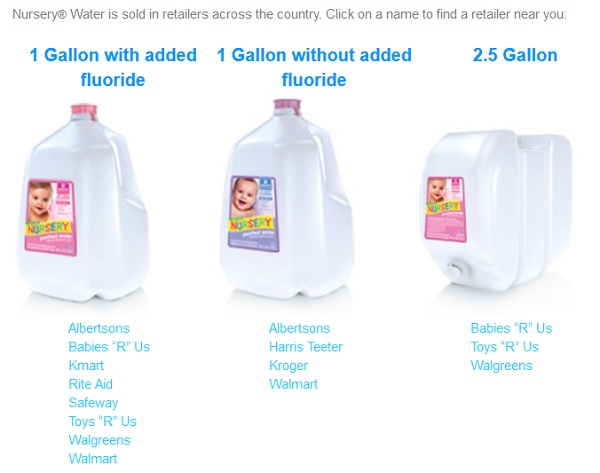 The Nursery Water label, shown below, lists "sodium fluoride" as a key ingredient: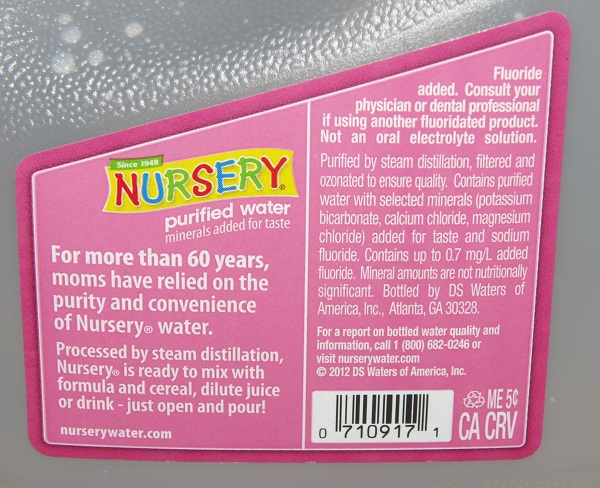 You'll also notice that the label includes instructions for using this sodium fluoride baby water:
"…ready to mix with formula and cereal, dilute juice or drink – just open and pour!"
Yep, you read it: the same "chemical weapon" that's about to start World War III is part of your baby's formula recipe. When sodium fluoride is in the hands of Syria's Assad, it's called a "chemical weapon," but when it's part of your baby's diet, it's called "nutrition." How's that for Orwellian doublespeak?
Syria's "chemical weapon" also added to Colgate toothpaste
Just in case adding Syria's "chemical weapon" to baby water isn't enough for you, it's also a key ingredient in Colgate toothpaste.
Yep, according to dentists, chemical weapons also "fight tooth decay," so they should be added to toothpaste. Check out the label on this Colgate toothpaste and see for yourself: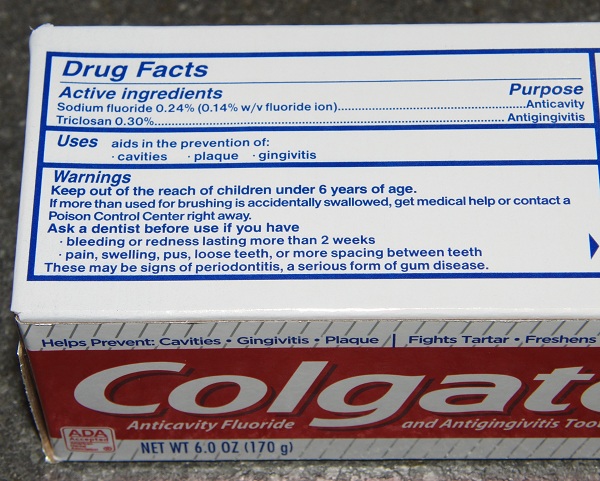 Keep this in mind the next time you carry toothpaste with you when you attempt to travel by air. The TSA can pull you aside and legitimately accuse you of working for the Assad regime as a chemical weapons terrorist while charging you with the federal crime of "transporting chemical weapons."
Mainstream media admits U.S. food companies use chemical weapons against their own customers
Unless the mainstream media retracts all its thousands of stories about sodium fluoride being a "chemical weapon" sold to Syria, it must come to terms with the fact that it is also accusing the U.S. food industry of using chemical weapons on consumers.
Sodium fluoride, after all, is added to countless consumer products, from toothpaste and mouthwash to drinking water. Sodium fluoride does not magically change from a "chemical weapon" in Syria to a "nutritive mineral" by crossing the ocean. Sodium fluoride is sodium fluoride, and it's dangerous no matter who consumes it.
Keep this in mind the next time you hear a dentist recommending dumping sodium fluoride into the local water supply. You can correctly counter their absurd request by threatening to call Homeland Security to report them as a terrorist for engaging in the indiscriminate deployment of a chemical weapon in the water supply — a favorite target for terrorists worldwide.
By the way, I'm not joking on this: I actually encourage you to call Homeland Security and report your local city council members as terrorists who are mirroring the Assad "regime" in Syria by using sodium fluoride "chemical weapons" on the public. You might even call the United Nations and ask them to intervene in the USA's use of chemical weapons against its own people… right? Isn't that what John Kerry is asking the world to do in the case of Syria? Why does the USA have immunity from using chemical weapons on its own people when Syria is threatened with war for using the exact same chemical weapons on its population?
Same "nerve gas chemicals" exported to Syria are imported from China by nearly every U.S. city
By the way, the same sodium fluoride that was exported to Syria as a "chemical weapon" is routinely imported by U.S. cities to dump into the municipal water supply. They call it "water fluoridation" and dentists push it like candy because it actually causes wildly increased tooth decay, mottling and discoloration (all of which adds up to increased repeat business for dentists).
As documented by Natural News, sodium fluoride is touted by China's exporters as a multi-purpose chemical that functions as a deadly pesticide, absorbs chemicals in the nuclear industry and more. See these two photos for more proof. These were created as marketing materials by China's fluoride export industry: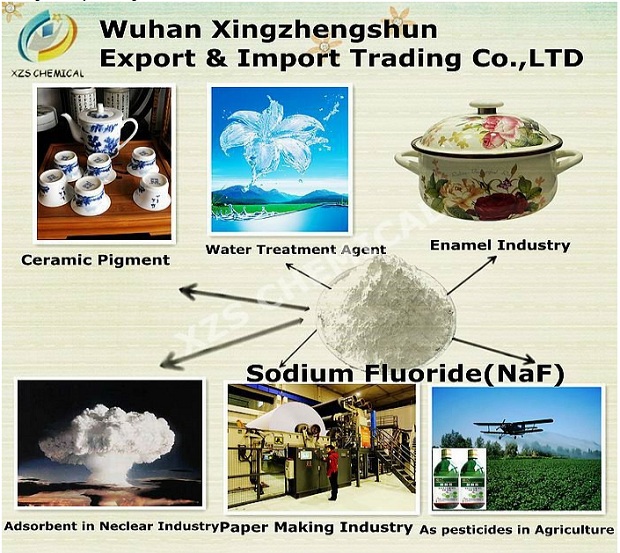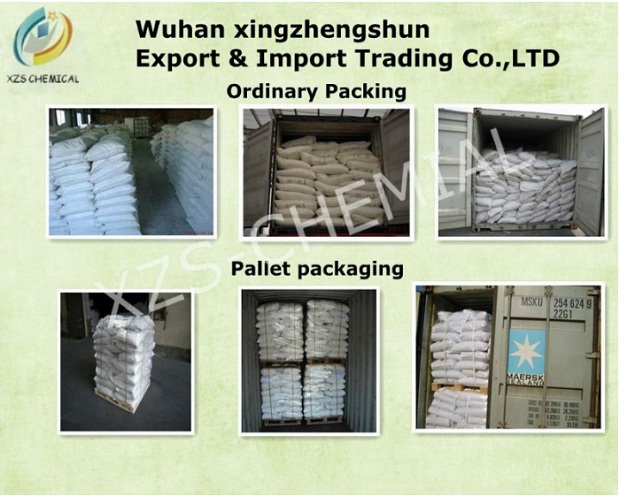 From Alibaba.com:
Uses: It's mainly used as a flux in the aluminum smelting by fused-salt electrolysis; also an opalizer in the manufacture of enamel; an opacifier and auxiliary solvent of glass and enamel; an insecticide of crops; a flux in aluminum alloy casting; and in the production of ferrous alloy and effervescing steel; as well as a wear-resistant filler for resin and rubber-boned abrasive wheels.
As I first said back in 2012, "Fluoride is a chemical weapon!" Now it turns out John Kerry agrees with me, and he's using fluoride as an excuse to bomb a sovereign nation.
Quick question: If Russia begins bombing the USA, can they use the same excuse that Obama and Kerry are using on Syria? "We had to save the American people from the chemical weapons used by the Obama regime!"
Sources for this story include:
http://www.theguardian.com/commentisfree/201…
http://www.dailyrecord.co.uk/news/uk-world-n…
http://www.france24.com/en/20130902-uk-appro…
http://www.independent.co.uk/news/uk/politic…
---
The Syrian War What You Are Not Being Told
---
---
Law Firms - Litigators Wanted
We all need clean water and clean air to live...
The Venus Project Foundation is an arts, sciences and educational, non-profit 501(c)(3), national public advocacy organization, based in New York City, United States.
We are interested to work with a law firm in New York to either obtain a court injunction, or sue State of New York and stop water fluoridation. Followed by a class action lawsuit with Venus Project Foundation as the lead client for "product's liability" against a few criminal multi-billion dollar nation-less corporations, committing crimes against us, the people, in direct violation of many U.S. health laws, environmental and criminal laws, proven based on powerful evidences that they are and have been knowingly and deliberately poisoning the entire United States and a few other nations around the world.
It is being done by adding toxic fluoride to our drinking water, to our foods, medicines, and the air we breathe, chemicals that have known carcinogenic effects used for spreading diseases, reducing fertility, dumbing down the population, causing violent behavior and shortening lifespan and much more. The facts are in plain view.
This toxic fluoride legal action could reach as high level as the lawsuits against the tobacco companies for willfully deceiving the public about the known harmful deadly effects of tobacco and nicotine, or lawsuits against chemical manufacturers contaminating residential areas such as the Love Canal, or the lawsuits against auto companies for knowingly ignoring safety standards.
The mentioned lawsuits resulted in very large damages awarded as well as systematic changes in business practices that benefited the entire U.S. population. A case such as this toxic fluoride will bring positive life saving results, by stopping water and consumer products and foods contamination plus great reviews for your law firm for acting in the interest of public safety policy as well as substantial monetary rewards for your firm.
Watch the documentary film listed below exhibiting fluoride's serious health hazards therein, by presenting many indisputable facts, hard evidences, expert witnesses testimony and the guilty defendants involved, all amounting to actionable information.
http://venusproject.org/health/the-great-culling-being-orchestrated-against-humanity.html