ENERGY CONVERSION USING HIGH CHARGE DENSITY
Patent Number: 5,018,180
Date of Patent: May 21, 1991
Inventor: Kenneth R. Shoulders, (1927 - June 7, 2013) Austin, Texas
ABSTRACT
Disclosed are apparatus and method for obtaining energy from high electrical charge density entities. The energy may be received by the conductor of a traveling wave device positioned along the path which the propagating entities follow. Multiple traveling wave devices may be combined. Energy output from a traveling wave device may also be directed to the generation of a subsequent such entity. Thermal energy may also be obtained from an EV.
Download the detailed patent for a NEW ENERGY power generator, used by NASA in countless operations, since 1991
Kenneth Radford Shoulders was an experimental physicist and inventor. He is known for various work related to the field of energy and has also been credited as an early pioneer of electron beam lithography, which has become a key mask-making technology for modern microelectronics. He has additionally been attributed the title, 'Father of Vacuum of Microelectronics' and been known as a founder of microelectronic field emission devices.
https://en.wikipedia.org/wiki/Kenneth_R._Shoulders
---
---
The Complete Archive of Nikola Tesla's Patents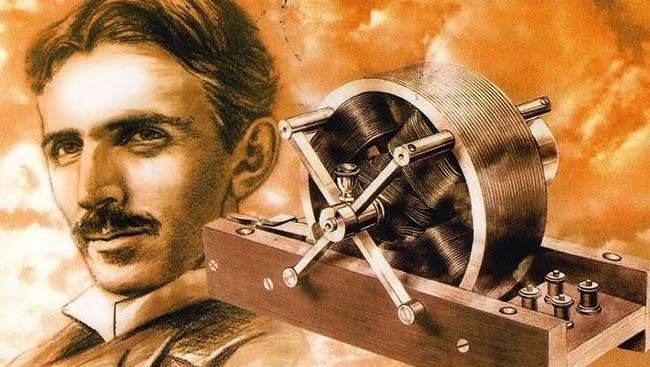 Nikola Tesla was one of the greatest inventors of the century. Below you will find the most complete set of Tesla's Patents available to date. This list includes Tesla's U.S., UK and Canadian patents.
Large majority of Tesla's patents have already expired, which means anyone of them can be used by anyone, anywhere, who is capable of understanding the technical drawings and descriptions included in all of the Tesla's patents and built whichever device they wish, with no fear of patent infringements laws.
Nikola Tesla patents: the USA - Click on patent's name to download PDF version.
| | | |
| --- | --- | --- |
| Patent No | Date of Application | Patent Title |
| 334,823 | January 26, 1886 | Commutator for Dynamo Electric Machines |
| 335,786 | February 9, 1886 | Electric Arc Lamp |
| 335,787 | February 9, 1886 | Electric Arc Lamp |
| 336,961 | March 2, 1886 | Regulator for Dynamo Electric Machines |
| 336,962 | March 2, 1886 | Regulator for Dynamo Electric Machines |
| 350,954 | October 19, 1886 | Regulator for Dynamo Electric Machines |
| 359,748 | March 22, 1887 | Dynamo Electric Machine |
| 381,968 | May 1, 1888 | Electro Magnetic Motor |
| 381,969 | May 1, 1888 | Electro Magnetic Motor |
| 381,970 | May 1, 1888 | System of Electrical Distribution |
| 382,279 | May 1, 1888 | Electro Magnetic Motor |
| 382,280 | May 1, 1888 | Electrical Transmission of Power |
| 382,281 | May 1, 1888 | Electrical Transmission of Power |
| 382,282 | May 1, 1888 | Method of Converting and Distributing Electric Currents |
| 382,845 | May 15, 1888 | Commutator for Dynamo Electric Machines |
| 390,413 | October 2, 1888 | System of Electrical Distribution |
| 390,414 | October 2, 1888 | Dynamo Electric Machine |
| 390,415 | October 2, 1888 | Dynamo Electric Machine or Motor |
| 390,721 | October 9, 1888 | Dynamo Electric Machine |
| 390,820 | October 9, 1888 | Regulator for Alternate Current Motors |
| 396,121 | January 15, 1889 | Thermo Magnetic Motor |
| 401,520 | April 16, 1889 | Method of Operating Electro Magnetic Motors |
| 405,858 | June 25, 1889 | Electro Magnetic Motor |
| 405,859 | June 25, 1889 | Method of Electrical Power Transmission |
| 406,968 | July 16, 1889 | Dynamo Electric Machine |
| 413,353 | October 22, 1889 | Method of Obtaining Direct from Alternating Currents |
| 416,191 | December 3, 1889 | Electro Magnetic Motor |
| 416,192 | December 3, 1889 | Method of Operating Electro Magnetic Motors |
| 416,193 | December 3, 1889 | Electro Magnetic Motor |
| 416,194 | December 3, 1889 | Electric Motor |
| 416,195 | December 3, 1889 | Electro Magnetic Motor |
| 417,794 | December 24, 1889 | Armature for Electric Machines (A. Schmid & N. Tesla) |
| 418,248 | December 31, 1889 | Electro Magnetic Motor |
| 424,036 | March 25, 1890 | Electro Magnetic Motor |
| 428,057 | May 13, 1890 | Pyromagneto Electric Generator |
| 433,700 | August 5, 1890 | Alternating Current Electro Magnetic Motor |
| 433,701 | August 5, 1890 | Alternating Current Motor |
| 433,702 | August 5, 1890 | Electrical Transformer or Induction Device |
| 433,703 | August 5, 1890 | Electro Magnetic Motor |
| 445,207 | January 27, 1891 | Electro Magnetic Motor |
| 447,920 | March 10, 1891 | Method of Operating Arc Lamps |
| 447,921 | March 10, 1891 | Alternating Electric Current Generator |
| 454,622 | June 23, 1891 | System of Electric Lighting |
| 455,067 | June 30, 1891 | Electro Magnetic Motor |
| 455,068 | June 30, 1891 | Electrical Meter |
| 455,069 | June 30, 1891 | Electric Incandescent Lamp |
| 459,772 | September 22, 1891 | Electro Magnetic Motor |
| 462,418 | November 3, 1891 | Method of and Apparatus for Electrical Conversion and Distribution |
| 464,666 | December 8, 1891 | Electro Magnetic Motor |
| 464,667 | December 8, 1891 | Electrical Condenser |
| 487,796 | December 13, 1892 | System of Electrical Transmission of Power |
| 511,559 | December 26, 1893 | Electrical Transmission of Power |
| 511,560 | December 26, 1893 | System of Electrical Power Transmission |
| 511,915 | January 2, 1894 | Electrical Transmission of Power |
| 511,916 | January 2, 1894 | Electric Generator |
| 512,340 | January 9, 1894 | Coil for Electro Magnets |
| 514,167 | February 6, 1984 | Electrical Conductor |
| 514,168 | February 6, 1984 | Means for Generating Electric Currents |
| 514,169 | February 6, 1984 | Reciprocating Engine |
| 514,170 | February 6, 1984 | Incandescent Electric Light |
| 514,972 | February 20, 1984 | Electric Railway System |
| 514,973 | February 20, 1984 | Electrical Meter |
| 517,900 | April 10, 1894 | Steam Engine |
| 524,426 | August 14, 1894 | Electromagnetic Motor |
| 555,190 | February 25, 1896 | Alternating Motor |
| 567,818 | September 15, 1896 | Electrical Condenser |
| 568,176 | September 22, 1896 | Apparatus for Producing Electric Currents of High Frequency and Potential |
| 568,177 | September 22, 1896 | Apparatus for Producing Ozone |
| 568,178 | September 22, 1896 | Method of Regulating Apparatus for Producing Currents of High Frequency |
| 568,179 | September 22, 1896 | Method of and Apparatus for Producing Currents of High Frequency |
| 568,180 | September 22, 1896 | Apparatus for Producing Electrical Currents of High Frequency |
| 577,670 | February 23, 1897 | Apparatus for Producing Electric Currents of High Frequency |
| 577,671 | February 23, 1897 | Manufacture of Electrical Condensers, Coils and Similar Devices |
| 583,953 | June 8, 1897 | Apparatus for Producing Currents of High Frequency |
| 593,138 | November 2, 1897 | Electrical Transformer |
| 609,245 | August 16, 1898 | Electrical Circuit Controller |
| 609,246 | August 16, 1898 | Electric Circuit Controller |
| 609,247 | August 16, 1898 | Electric Circuit Controller |
| 609,248 | August 16, 1898 | Electric Circuit Controller |
| 609,249 | August 16, 1898 | Electric Circuit Controller |
| 609,250 | August 16, 1898 | Electrical Ignitor for Gas Engines |
| 609,251 | August 16, 1898 | Electric Circuit Controller |
| 611,719 | October 4, 1898 | Electrical Circuit Controller |
| 613,735 | November 8, 1898 | Electric Circuit Controller |
| 613,809 | November 8, 1898 | Method of and Apparatus for Controlling Mechanism of Moving Vessels or Vehicles |
| 645,576 | March 20, 1900 | System of Transmission of Electrical Energy |
| 649,621 | May 15, 1900 | Apparatus for Transmission of Electrical Energy |
| 655,838 | August 14, 1900 | Method of Insulating Electric Conductors |
| 11,865 reissue | October 23, 1900 | Method of Insulating Electric Conductors |
| 685,012 | October 22, 1901 | Means for Increasing the Intensity of Electrical Oscillations |
| 685,953 | November 5, 1901 | Method of Intensifying and Utilizing Effects Transmitted Through Natural Media |
| 685,954 | November 5, 1901 | Method of Utilizing Effects Transmitted Through Natural Media |
| 685,955 | November 5, 1901 | Apparatus for Utilizing Effects Transmitted From a Distance to a Receiving Device Through Natural Media |
| 685,956 | November 5, 1901 | Apparatus for Utilizing Effects Transmitted Through Natural Media |
| 685,957 | November 5, 1901 | Apparatus for the Utilization of Radiant Energy |
| 685,958 | November 5, 1901 | Method of Utilizing Radiant Energy |
| 723,188 | March 17, 1903 | Method of Signaling |
| 725,605 | April 14, 1903 | System of Signaling |
| 787,412 | April 18, 1905 | Art of Transmitting Electrical Energy Through the Natural Mediums |
| 1,061,142 | April 29, 1913 | Fluid Propulsion |
| 1,061,206 | May 6, 1913 | Turbine |
| 1,113,716 | October 13, 1914 | Fountain |
| 1,119,732 | December 1, 1914 | Apparatus for Transmitting Electrical Energy |
| 1,209,359 | December 19, 1916 | Speed Indicator |
| 1,266,175 | May 14, 1918 | Lightning Protector |
| 1,274,816 | August 6, 1918 | Speed Indicator |
| 1,314,718 | September 2, 1919 | Ship's Log |
| 1,329,559 | February 3, 1920 | Valvular Conduit |
| 1,365,547 | January 11, 1921 | Flow Meter |
| 1,402,025 | January 3, 1922 | Frequency Meter |
| 1,655,113 | January 3, 1928 | Method of Aerial Transportation |
| 1,655,114 | January 3, 1928 | Apparatus for Aerial Transportation |
Nikola Tesla patents: the Great Britain
| | | |
| --- | --- | --- |
| Patent No | Date of Application | Patent Title |
| 1877 | February 9, 1886 | Improvements in electric lamps |
| 2975 | March 2, 1886 | Improvements in dynamo electric machines |
| 6481 | May 1, 1888 | Improvements relating to the electrical transmission of power and to apparatus therefor |
| 6502 | May 1, 1888 | Improvements relating to the generation and transmission of electrical currents and apparatus therefor |
| 6527 | April 16, 1889 | Improvements relating to electro-motors |
| 16709 | October 22, 1889 | Improvements relating to the conversion of alternating to direct electric currents |
| 19420 | December 3, 1889 | Improvements in alternating current electro-magnetic motors |
| 19426 | December 3, 1889 | Improvements in the construction and mode of operating alternating current motors |
| 8575 | May 19, 1891 | Improved methods of and apparatus for generating and utilizing electric energy for lighting purposes |
| 11473 | July 6, 1891 | Improvements in alternating current electro-magnetic motors |
| 2801 | February 8, 1894 | Improvements in reciprocating engines and means for regulating the period of the same |
| 2812 | February 8, 1894 | Improvements in methods of apparatus for the generation of electric currents of a defined period |
| 20981 | September 22, 1896 | Improvements to the production, regulation and utilization of electric currents of high frequency, and apparatus therefor |
| 24421 | October 21, 1897 | Improvements in systems for the transmission of electrical energy and apparatus for use therein |
| 12866 | June 8, 1898 | Improvements in Electrical Circuit Controllers |
| 26371 | December 13, 1898 | Improvements in the method of and apparatus for controlling the mechanism of floating vessels or moving vehicles |
| 14550 | August 14, 1900 | Improvements relating to the insulation of electric conductors |
| 11293 | June 1, 1901 | Improvements relating to the utilization of electromagnetic, light or other like radiations effects or disturbances transmitted through the natural media and to apparatus therefor |
| 13563 | July 3, 1901 | Improvements in, and relating to, the transmission of electrical energy |
| 14579 | July 17, 1901 | Improvements in and relating to the transmission of electrical energy |
| 8200 | April 17, 1905 | Improvements relating to the Transmission of Electrical Energy |
| 24001 | October 17, 1910 | Improved method of imparting energy to or deriving energy from a fluid and apparatus for use therein |
| 174544 | April 1, 1921 | Improvements in methods of and apparatus for the generation of power by elastic fluid turbines |
| 179043 | March 24, 1921 | Improved process and apparatus for production of high vacua |
| 185446 | April 1921, 1921 | Method of and apparatus for aerial transportation |
| 186082 | March 24, 1921 | Improvements in the construction of steam and gas turbines |
| 186083 | March 24, 1921 | Improved method of and apparatus for the economic transportation of energy of steam turbines |
| 186084 | March 24, 1921 | Improved process of and apparatus for deriving motive power from steam |
| 186799 | September 2, 1921 | Process for and apparatus for balancing rotating machine parts |
Nikola Tesla patents: Canada
| | | |
| --- | --- | --- |
| Patent No | Date of Application | Patent Title |
| C24,033 | April 27, 1886 | Dynamo Electric Machine |
| C29,537 | May 1, 1888 | Method & App. for the Electrical Transmission of Power |
| C30,172 | May 1, 1888 | Method & App. for Converting & Distributing Electric Currents |
| C33,317 | December 19. 1889 | Method & App. for Converting Alternating into Direct Currents |
| C135,174 | August 22, 1911 | Fluid Propulsion |
| C142,352 | August 13, 1912 | Electrical Energy Transmission |