New York Lawmakers Pass Hemp Bill; Receives Only 2 "No" Votes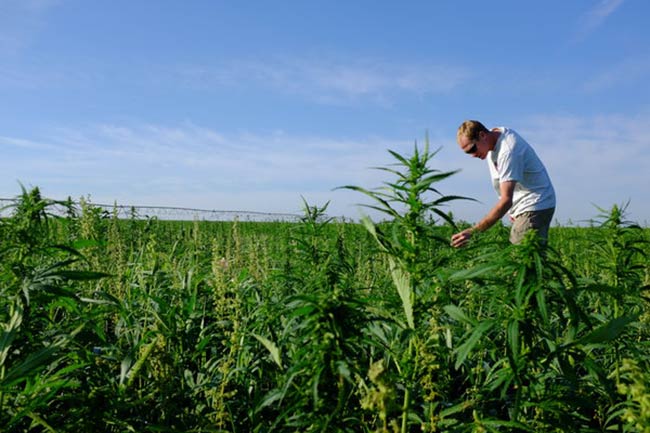 - By TJ Baker - The Daily Chronic - June 12, 2014
ALBANY, NY — Both chambers of the New York legislature approved a bill Wednesday by a near-unanimous vote to allow the cultivation of industrial hemp as part of an agricultural pilot program, the 16th state to do so.
The bill, Senate Bill 7047, had been introduced earlier this year, but never received consideration by the Committee on Agriculture, where it was assigned.  The bill was discharged from the committee on Tuesday and re-assigned to the Senate Rules Committee, who advanced the bill to a third and final reading.
The Senate then passed the bill by a vote of 56-2 early Wednesday, sending the bill to the Assembly.  Once in the Assembly, the bill moved quickly, with SB 7047 replacing Assembly Bill 9140, which had already cleared several committees.
Later in the day, the Assembly approved the bill on a unanimous 130-0 vote.  The bill will now be transmitted to Governor Andrew Cuomo for his signature.
"This bill positions New York state to take advantage of what will certainly become a new industry," Assemblywoman Donna Lupardo (D-Binghamton), the bill's sponsor in the Assembly, said in a statement released to the media. "Not only will this allow us to begin researching potential uses for this lucrative crop, but also the potential for new manufacturing and markets across the state."
Once enacted into law, the bill will authorize the New York State Department of Agriculture to establish an industrial hemp pilot program "to provide research-based knowledge that can be used by farmers and businesses to develop a successful hemp industry if federal authorization is granted."  Universities would also be allowed to grow hemp for research purposes.
While large-scale industrial hemp cultivation remains prohibited under federal law, the Farm Bill approved by Congress and signed by President Barack Obama earlier this year allows states to sponsor industrial hemp research programs absent federal reclassification of the plant.
"This proposed pilot program would help New York State secure a strong position at the forefront of a future industry that can diversify and strengthen our agricultural industry, generate revenue and create jobs," says Senator Tom O'Mara (R-Chemung County), the bill's sponsor in the Senate.
While Governor Cuomo not announced whether he will sign the bill into law, let it become law without his signature, or veto it, the near-unanimous vote in both chambers of the legislature represents a veto-proof majority.
The United States is the only developed nation that fails to commercially cultivate industrial hemp as an economic crop, according to the Congressional Resource Service.
Hemp is a distinct variety of the plant species cannabis sativa that contains only minute (less than 1%) amounts of tetrahydrocannabinol (THC), the primary psychoactive ingredient in marijuana.
Farmers worldwide grow hemp commercially for fiber, seed, and oil for use in a variety of industrial and consumer products, including food and clothing. The CRS further states, "[T]he US market for hemp-based products has a highly dedicated and growing demand base."
The American Farm Bureau endorsed ending the federal prohibition on industrial hemp at its annual meeting in January.
Hemp for Fuel, Fiber and Freedom
Hemp, Cannabis, or Marijuana prohibition is really about suppressing hemp fuel and hemp fiber from competition with capital intensive, environmentally-harmful, mostly synthetic alternatives. This simple oil lamp demonstrates why they made up the 'marijuana' myth to stop competition to petrochemical fuels. We don't need to fight wars for petroleum because we can replace petroleum with hemp seed oil for fuel, plastics and most everything else. Marijuana prohibition is really about money, power and the further centralization of economic and political control. It is really about social and economic justice. Restore hemp!